Dey leads Guyana's 'clean sweep' of IGG male cycling road race
By Rawle Toney in Suriname IN dominating fashion, Guyana occupied the top four spots in the male cycling Road Race event to retain their Inter Guiana Games (IGG) Cycling trophy.Exceptional team work by the Guyanese resulted in Curtis Dey being able to have his way on the streets of Paramaribo, as he finished with a time of One hour, 47 minutes and 59 seconds (1:47.59) to finish first.His teammates then followed: Marcus Keiler was second (1:52.17), Jason Cameron (1:59.37) finished third and Adealie Hodge (2:02.52) came in fourth, to hand Guyana a convincing win and continued their rich tradition of winning the event.In the female event, however, Suriname came first while Guyana's Sheneka Tiexeira was second, Deance Welch took third and Suriname rounded off the top four. Byonka Barker complained that a Surinamese deliberately "took her out" the race, resulting in her bicycle being damaged.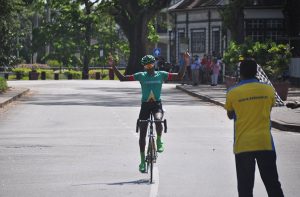 Guyana's Curtis Dey crossing the finish line to win the IGG Road Race yesterday in SurinameMeanwhile, having won the time trial the previous day, Guyana came out highly optimistic and it was Dey, the Trojon Cycle club member, who was urged by his teammates to 'break out' of the pack.Dey rode solo for much of the 69 Kilometers road race and so did Keiler who left Cameron and Hodge to hold the fort at the back.Cameron, who happens to be Dey's teammate at the Berbice cycling club, later broke out and left Hodge to 'toy' with the Surinamese cyclist.However, Hodge would later on get tired of playing games and being urged by the Guyanese supporters, he would sprint away from the 'pack' and later joined his teammates in celebration.